News for November 2014
Song Of The Day by Eric Berman – The Jukebox Series #58– The 5th Dimension: "Medley: Aquarius/Let The Sunshine In (The Flesh Failures)" b/w "Don'tcha Hear Me Callin' To Ya" – Soul City 45 SCR-772 (Q6/R6)
"The Jukebox Series" focuses on the 80 records that inhabit my 1963 Seeburg LPC1 jukebox. I've had my jukebox (or as I like to call it "the prehistoric iPod") for a little over twelve years and in that time I'd like to think that I've perfected the mix of 45s within.
It was 1969…and Hair was everywhere. I'm not talking about long, beautiful hair…or shining, gleaming, streaming, flaxen, waxen hair. Nor am I referring to the hair that reaches down to here, down to there…way down past the shoulders hair. I'm talking about Hair – The American Tribal Love Rock Musical.
The Broadway musical opened in 1968 to rave reviews and introduced the hits "Good Morning Starshine," "Easy To Be Hard" and the title song which were brought to the charts by the likes of Oliver, Three Dog Night and The Cowsills respectively. It is also the show that introduced today's jukebox classic, "Aquarius/Let The Sunshine In (The Flesh Failures)," which topped the charts for six weeks during the spring of 1969 by 5th Dimension.
All of the songs in the musical were written by Galt MacDermot, Gerome Ragni and James Rado. MacDermot also wrote the music to the 1971 musical Two Gentlemen Of Verona and released several influential funk and instrumental jazz albums that are currently the rage amongst those "in the know" of the hipster cognoscenti.
I've been listening to the cast album of Hair since I was seven years old…way before I knew the meaning of songs like "Sodomy," "Hashish," "Colored Spade," "Walking In Space" and the numerous other titillating-for-their-time songs in this musical. It is indeed part of my musical DNA.
When "Aquarius" hit the radio in 1969, it was one of the grooviest records I had ever heard. It was a record that was so prevalent within the pop culture, but it was also a record that divided the hippies from the establishment. You see, The 5th Dimension records weren't nearly as cool as The Beatles, The Rolling Stones, The Doors, Donovan or the Bob Dylan albums in the record collections of my sister and her friends. To the hippies, The 5th Dimension were the establishment, very much in line with other "uncool and lightweight" artists like Neil Diamond, Glen Campbell, The Monkees and Bobbie Gentry. Of course, time has proven that these latter artists were just cool and, yes groovy and the others.
The 5th Dimension consisted of Billy Davis Jr., Florence LaRue, Marilyn McCoo, Lamonte McLemore and Ron Townson, and were no strangers to the charts during the 1960s and early 1970s landing such classic hits as "Up, Up And Away," "Stoned Soul Picnic," "Wedding Bell Blues," "One Less Bell To Answer," "Never My Love" and "(Last Night) I Didn't Get To Sleep At All" into the upper regions of the charts.
After being turned down by Motown Records, the group was signed to Johnny Rivers' then-new record label Soul City Records. Their brand of groovy sunshine pop featuring soaring harmony vocals was just the tonic for the top-notch material that was being submitted to them by songwriters like Jimmy Webb, Burt Bacharach and Hal David and Laura Nyro.
When the group brought their desire to record today's song to their producer Bones Howe, he had some reservations which he detailed in the book By The Time We Got To Woodstock: The Great Rock 'n' Roll Revolution Of 1969: "The thing that bothered me about it was that there'd been other releases of 'Aquarius' and none had done anything, so I was concerned about what we would do that would be any different. I went to see the show and there's a place where they do "The Flesh Failures" and at the end of the song is just a three bar repeated thing of 'Let the sunshine in' where Ragni was swinging across the stage on a chandelier and there was all kinds of craziness going on. That really stayed with me and I came out of the theater saying, I wonder if I could stick that on the end of 'Aquarius' and make that the ending. So I went back to the hotel and I called the publisher… I said, look the 5th Dimension would like to record 'Aquarius,' but I'd like to make it a medley and I'd like to use the last three bars of 'The Flesh Failures' and I don't want to do it without permission. So he said okay, you can go ahead and do it." (Song Facts)
The song is set up with one of the most indelible introductions from a 45 of the era, which made it stand out on radio. The intro was later expertly sampled by The Beastie Boys for their track "Finger Lickin' Good" from their masterpiece album Paul's Boutique.
Like many artists of the era, The Age Of Aquarius album was recorded on the west coast with backing from The Wrecking Crew including Tommy Tedesco on guitar, Joe Osborn on bass, Hal Blaine on drums, Milt Holland on percussion and Pete Jolly, Larry Knechtel and Jimmy Rowles on keyboards.
The 5th Dimension's recording of "Aquarius/Let The Sunshine In" went on to win the Grammy for Record Of The Year and for Best Pop Vocal Performance in 1970. The song has been covered by the likes of Donna Summer, Engelbert Humperdinck, Andy Williams, Diana Ross & The Supremes, The Ventures, The Undisputed Truth, George Shearing, The Moog Machine, Andy Williams with The Osmonds, Spencer Davis Group (in German, no less), Brian Auger and Julie Driscoll and dozens of others.
The cast album to Hair has managed to stand the test of time and the musical has enjoyed numerous successful revivals and tours around the world. The musical was also taken to the big screen in 1979 by director Milos Forman with choreography by Twyla Tharpe, introducing it to numerous later generations. While I was too young to catch the musical on Broadway in its original incarnation, I did manage to see a revival on Broadway during the 1980s.
FYI: The Age of Aquarius is when the sun is in the constellation Aquarius during the springtime. The next time that this will happen is 2448. We are currently in the age of Pisces.
The single's flip, "Don'tcha Hear Me Callin' To Ya" is a breezy confection that was putty in the capable hands of the 5th Dimension. The song is also from The Age Of Aquarius album and was written by Rudy Stevenson who also wrote songs recorded by Herbie Mann, George Benson and Dexter Gordon.
Edited: November 20th, 2014
Song of the Day by Eric Berman – "No Time to Think" by Bob Dylan
Street Legal is one of the most underrated records in Bob Dylan's canon.
Before proper recording of the album ensued, Dylan began rehearsing his band for a tour of the Far East that resulted in the release of the Live at Budokan. The tour was dubbed "The Vegas Tour" by the time the live album surfaced because of Dylan's copious use of background vocals and the garish outfits he wore on the road.
Street Legal was recorded in a warehouse space Dylan rented in Santa Monica, California which was dubbed Rundown Studios. The album was recorded entirely live in the studio with only minor overdubs during the break between the Far East and U.S. tour stops and featured some of Dylan's most impassioned vocals.
When Street Legal came out in 1978 before the Live at Budokan album, it had the tough task of following both Desire and Blood on the Tracks, two of Dylan's most respected studio albums and comparatively speaking, it did not fare so well only climbing to #11 on the U.S. album charts.
In retrospect, the album features some of Dylan's greatest songs including "Senor (Tales Of Yankee Power)" (which the Jerry Garcia Band regularly performed), "Changing Of The Guard," "New Pony" (later covered by Jack White with Dead Weather), "Is Your Love In Vain?" and today's Song of the Day by Eric Berman. Dylan's band on the album included Billy Cross on lead electric guitar, Stevens Soles on rhythm guitar, Jerry Scheff (from Elvis Presley's band) on bass guitar, Alan Pasqua on keyboards, Ian Wallace on drums, Bobbye Hall on percussion, David Mansfield on violin and mandolin, Steve Douglas on saxophone, Steve Madaio on trumpet and Jo Ann Harris, Helena Springs and Carolyn Dennis on background vocals.
Dylan would later secretly marry Carolyn Dennis, one of his background singers on the album and the tour, in 1986.br>
Edited: November 19th, 2014
Song of the Day by Eric Berman – "Take Me to the Pilot" by Elton John
Happy 44th birthday to this performance!
I play Elton John's 11/17/70 album every year on this day as it certainly captures him at his near best…especially on "Take Me to the Pilot," today's Song of the Day by Eric Berman.
The album was recorded live for a radio broadcast at the A&R Studios in New York City back on this date in 1970. A six song album from the broadcast was released in 1971 to offset bootleg recordings that almost immediately began to circulate after the performance.
Six more songs were performed that day and are still not released to this day. Those songs include early Elton classics like "I Need You To Turn To," "Country Comfort," "Border Song," "Indian Sunset," "My Father's Gun" and, of course, "Your Song." An additional song from the broadcast, "Amoreena," was issued as a bonus track to the CD reissue in 1997.
The band on this performance includes Elton John on piano, Dee Murray on bass and Nigel Olsson on drums. They give new meaning to the term "power trio" since nary a lead guitar is heard on the recording. That's New York radio DJ Dave Herman introducing the show on the album and he later went on to say that Elton must have cut his hand sometime during the 80-minute performance because when it was over his piano keyboard was covered in blood.
This year would have been perfect for a deluxe expanded reissue of the complete broadcast since forty-four years later is still is powerful!
Edited: November 17th, 2014
Song of the Day by Eric Berman – "Golden Gate Gospel Train" by The Golden Gate Quartet
Today's Song of the Day by Eric Berman shines a spotlight on what I like to call holy rollin' prehistoric Doo Wop, which is better known as Gospel Jubilee.
The Golden Gate Quartet started out as a Barbershop Quartet in Virginia back in the early 1930s comprised of two friends from the Booker Washington High School glee club, the barber and a one-legged bass singer. By the time the group began to perform for audiences during the late 1930s, the quartet featured Orlandus Wilson, Willie Johnson, Henry Owens and Clyde Riddick who soon migrated to North Carolina where their brand of Jubilee Gospel was featured all over the radio airwaves.
By 1937, they came to the attention of the Victor Record company who began recording their sides (including this 1937 track) for the Bluebird label. The Golden Gate Jubilee sound was a heady brew melding barbershop harmonies, jazz and scat singing and country hillbilly music with a healthy helping of old time religion. Their sound was a great influence on groups like The Ink Spots and many of the Doo Wop groups of the 1950s. The quartet performed for close to 70 years with Riddick staying in the group until he retired in 1995 and Wilson's death in 1998, and the group still exists in some form today. Incredible, their most recent album was released in 2010.
Listen closely and you can also here a sample of this very song in Paul Simon's "Love and Blessings," from his latest studio album So Beautiful or So What.
Edited: November 16th, 2014
Song of the Day by Eric Berman – "One Too Many Mornings" by Bob Dylan & Johnny Cash
Still a mystery to me why these recordings have never been officially released…and now that The Complete Basement Tapes have finally seen the light of day, maybe their time has come…
The Dylan-Cash Sessions took place in Nashville's Columbia Studio A on February 17-18, 1969 at the tail end of the Nashville Skyline recording sessions. During the same week that Dylan turned in such indelible recordings as "I Threw It All Away," "Lay Lady Lay," "To Be Alone With You" and "Tonight I'll Be Staying Here With You," Johnny Cash, who had been recording in an adjoining studio, turned up for some recording fun.
What transpired were several days of session in which the two traded songs and laid some duets down on tape with an eye toward making a record together. In the studio with Dylan and Cash were the cream of the Nashville session elite including Norman Blake on guitar and dobro, Kenny Buttrey on drums, Fred Carter, Jr. on guitar, Charlie Daniels on bass, Pete Drake on pedal steel, Marshall Grant on bass, W.S. Holland on drums, Charlie McCoy on guitar and harmonica, Bob Wilson on the crucial organ and piano work and Bob Wootton on electric guitar.
The fifteen selections that have been widely circulated include jovial run-throughs of Cash standards like "Big River," "I Walk The Line," "Ring Of Fire," "Guess Things Happen That Way" and "I Still Miss Someone," plus Dylan's "Girl From The North Country" and today's Song Of The Day by Eric Berman, "One Too Many Mornings," plus versions the rock and roll classics "Matchbox," "That's All Right Mama" and "Mystery Train."
Not enough music came out of the loose sessions deemed worthy of release at the time except "Girl from the North Country," which opened Nashville Skyline. So the rest sat on the shelves at Columbia and in the hands of lucky collectors.
It totally knocks me out that footage exists of these sessions at all, but here is a YouTube clip of the two in the studio. Cash handles the lion share of the lead vocals here and on most of the recordings, and Dylan seem somewhat out of his element with his vocals. That said, you can hear the mutual respect the two artists have for each other in every note of the joyful music they made.
Nashville Skyline went on to be a big success, giving Dylan his biggest hit to date with "Lay Lady Lay."
Edited: November 13th, 2014
Song of the Day by Eric Berman – "Mirror Monster" by Deerhoof/Concert Review – Bottom Lounge, Chicago, IL 11/11/14
Twenty years in as a band and 13 studio albums later, Deerhoof have grown in leaps and bounds from their early punk beginnings to the angular dance music they put out today. With the twin guitars of John Dieterich and Ed Rodriguez exchanging shards of sound and in-synch intricate patterns, while the ever-manic Greg Saunier's dynamic and shape-shifting percussive gymnastics on the drums bouncing off Satomi Matsuzaki's funked-up Hofner bass lines and baby-girl vocals, the band's sound has become singularly unique.
It was indeed a feast for the ears last night at The Bottom Lounge in Chicago where the band slaughtered the audience with a sound that was part Yoko Ono in its dance sensibilities and part King Crimson in its complexity.
The band took to the stage with the soothing "Mirror Monster" which is not only the best song on their latest album La Isla Bonita, but is also today's Song of the Day by Eric Berman. The twin guitars of Dieterich and Rodriguez laid out floating blankets of sonic ooze while Satori sang "We are riders in the cavalry/Who will soon be victims of our imitators/What did we expect?" She then anchored the track with a purposely clunky bass line that became a superb counter melody to the song's mystical melody. It was a magical beginning of a night that saw the band focus on their latest release early on before digging deep into their musical archive.
Other highlights from their latest release included the album's lead track "Paradise Girls" which celebrates smart girls who play the bass guitar with Rodriguez and Dietrich trading scratchy guitar patterns over the organized chaos of Saunier's drumming. Indeed watching Saunier on the drums is one of the highlights of seeing the band in person, and when he later took to the microphone to lead the audience in a chorus of Happy Birthday for Dieterich's brother who was in attendance; his dialog added a dose of surrealism to the mix.
They also played the quasi-tropical track "Doom," "Exit Only" with its pulverizing introduction that hearkened back to the sound of Nirvana, and the lanky "Last Fad" which found Satori exclaiming that "Baseball is cancelled/E.T. is running late/You from America" and made it all make perfect sense. Later in the set, Satori and Saunier traded instruments for a spooky version of La Isla Bonita's final cut "Oh Bummer."
The group also dug into earlier fan favorites including "Fresh Born" and "Buck and Judy" from Offend Maggie, "Dummy Discards A Heart" from Apple O, "Twin Killers" from The Runners Four and "Bad Kids To The Front" from Breakup Song.
The concert ended with the punk rock simplicity of the Ramones' "Pinhead" that further contrasted the complex music the band laid out all night long and a final off-the-chart sing-along version of "Come See the Duck."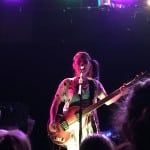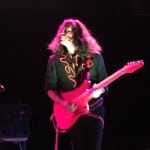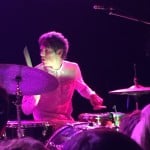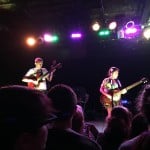 Edited: November 12th, 2014
Song of the Day by Eric Berman – "Lordy" by Neil Diamond
If ever an album was ripe for reissue and expansion, it would be Neil Diamond's 1970 live album called Gold.
While most people reach for their copy of the Hot August Night when they want a live fix of Neil Diamond, his Gold album finds him sweating it out backed by a small group in front of an intimate audience, and is a far more satisfying listen.
The album was recorded live at The Troubadour in Hollywood, California on July 15, 1970. Diamond's small but powerful backing band included Carol Hunter on guitar, Randy Sterling on bass and Eddie Rubin on drums. While the band was small in numbers, they manage to whip up a frenzy throughout this essential Neil Diamond live document.
The Neil Diamond we hear on this album isn't the syrupy sweet balladeer of "Heartlight" and "You Don't Bring Me Flowers." Instead, we get a rough-cut Diamond with straight-up unpretentious readings of some of his greatest songs, including his current single at the time, "Brother Love's Traveling Salvation Show" and "Sweet Caroline," way before it became the property of karaoke stars doing Elvis Presley.
Diamond digs into his Bang catalog for spirited performances of some of his early singles like "Cherry, Cherry," "Kentucky Woman," "Solitary Man" and "Holly Holy," no gratuitous medley's here, we get the full performances of each song. The set also included a hushed intimate reading of what he said at the time was one of his own favorite songs, "And The Singer Sings His Song," as well as a reading of his hit cover of Joni Mitchell's "Both Sides Now."
But it's the album's opener and today's Song Of The Day by Eric Berman, "Lordy," finds Diamond rocking out harder than he ever had before (and would ever do again) as he spits out the opening lyrics "Hey, Lady, she got painted eyes, Have a way of talking to you, Cut your heart out for the prize, While the bitch sings hallelujah." The song gained much notoriety when it was issued as the B-side of the "Cracklin' Rosie" single.
I've often wondered if the tapes from this all too brief album still exist, and if so, why the whole show hasn't been issued. Diamond was inducted into the Songwriters Hall of Fame in 1984 and into the Rock and Roll Hall of Fame in 2011. Additionally, he was an honoree at the Kennedy Center Honors in 2011. He recently released his 32nd studio album Melody Road and will take to the road once again to promote it. You really can never go wrong seeing Diamond in concert, but he would never reach the heights he did back in 1970 at The Troubadour ever again.
Shine on you crazy Diamond!
Edited: November 9th, 2014
Song of the Day by Eric Berman – "I Got Loaded" by Little Bob and the Lollipops
For many years, I thought this song was a Los Lobos original. Their version was so in line with their sound and it fit so well on their Will the Wolf Survive album. So it was surprising to me, when I found out that the song had been around for over twenty years by the time they got around to recording it.
The song was recorded by Little Bob and the Lollipops, and was never even originally released as the A-side to the single it appeared on. When originally released in 1965 on the La Louisianne record label (best known for Bob and Dale's hit "I'm Leaving It All Up to You"), it was the flip of the single "Nobody But You." Over the years, the song has become Little Bob's signature song and has inspired covers by the likes of Robert Cray, Tab Benoit and The Refreshments.
Little Bob (born Camille Bob) grew up working on a farm in rural Prairie Laurent, Louisiana. Early on he took a liking to the music of B.B. King, Count Basie and Guitar Slim, and dreamed of a day when he could give up working in the fields and play music for a living. To that end, he traded a horse for his first set of drums as a teen, and set out on his music career.
By 1955, he was backing Good Rockin' Bob (aka Ed Thomas) and making more money than he ever would have if he'd stayed on the farm. Growing restless as a backing musician, Bob decided to break out on his own, and formed Little Bob and the Lollipops in the late 1950s, naming the group after Cookie and the Cupcakes. The band soon became a fixture on the Louisiana party and club circuit, playing a rocking hybrid of rock 'n' roll and rhythm and blues.
His early singles "Are You Ever Coming Home," "Please Don't Leave" and "You Don't Have to Cry" were Cajun-infused rhythm and blues. After signing with Carol Rachou's La Louisianne label, Bob's records took on more of a James Brown influence, as heard on the later singles "Are You Going My Way," "I Can't Take It" and "Look Out Mr. Heartache."
Little Bob has been performing for over 50 years and was elected into the Louisiana Music Hall of Fame in 1992. Both Little Bob and the La Louisianne record label are both still active today.
Word to the wise: Take two aspirin and drink a big glass of water after listenin' to this one!
Edited: November 5th, 2014
Song of the Day by Eric Berman – "Soldier of Love (Lay Down Your Arms)" by Arthur Alexander
He's the only artist to be covered by the holy quartet of Elvis Presley, The Beatles, The Rolling Stones and Bob Dylan. Others who rushed to his deep well of first-rate copyrights included The Hollies, Ry Cooder, Pearl Jam, Ike & Tina Turner, Marshall Crenshaw, George Jones, Otis Redding, The Bee Gees, Humble Pie, and Dusty Springfield, and that's only a small sampling of those who have recorded his tunes.
Yet, Arthur Alexander, the man who wrote such classics as "Anna (Go To Him)," "You Better Move On," "Sally Sue Brown," "Detroit City," "A Shot Of Rhythm And Blues" and today's Song of the Day by Eric Berman, remains largely unknown to most people, or even worse, totally forgotten.
And if his recordings weren't enough to guarantee him legendary status, he, along with Donnie Fritts, Rick Hall and Tom Stafford, converted a dilapidated tobacco warehouse in Alabama into a recording studio, and launched the famed Muscle Shoals Studios with his first single "You Better Move On" in the early 1960s.
The music business was a tricky proposition then as it is now, and fame and fortune largely alluded him, but not for lack of trying. After a string of seminal southern soul recordings that made others rich and famous, Alexander moved from record label to record label releasing a series of albums and singles throughout the sixties and seventies that garnered little or no airplay, including an eponymously titled album for Warner Brothers in 1972 and the 1975 minor hit single "Every Day I Have To Cry" for the Buddah label.
From 1977 through 1992, Alexander dropped out of the music industry completely and drove a van for senior citizens. After being inducted into the Alabama Music Hall of Fame, he came back to music and recorded his last record, Lonely Just like Me for Elektra records in 1993. Sadly days after launching his comeback with a new band, Alexander died of a heart attack.
For further listening, check out The Ultimate Arthur Alexander for his original recordings, and the tribute album Adios Amigo: A Tribute to Arthur Alexander featuring covers of his songs by the likes of Robert Plant, Elvis Costello, Roger McGuinn, Nick Lowe, John Prine and Frank Black. Both CDs were issued by Razor & Tie music and are essential.
Edited: November 4th, 2014
Song of the Day by Eric Berman – "If I Had My Way" by Peter, Paul and Mary
They were the original prefab group, put together by their manager much in the same way that The Monkees were. But instead of a casting call, Albert Grossman knew exactly what he was looking for to form his folk group…two bearded guys (one on stand-up bass, one on guitar) and one woman, preferably a blonde, who could all sing. That's how the folk trio of Peter Yarrow, Paul Stookey & Mary Travers came to be. But unlike The Monkees who were ridiculed by many and spent years proving to their audience that they were the real thing, PP&M were welcomed with open arms right from the get-go.
After auditioning for the job of being Peter, Paul and Mary, the trio cut their teeth performing in the folk clubs of Greenwich Village in New York City. Not only did Peter and Paul write many of their biggest songs including "Puff The Magic Dragon," "The Cruel War," "Gone The Rainbow," "Day Is Done" and "I Dig Rock 'n' Roll Music," but they introduced a whole host of songwriters' material to a new generation of music fans, including songs by Gordon Lightfoot ("Early Morning Rain"), John Denver ("Leaving On A Jet Plane") and, most crucially, Bob Dylan ("Blowin' In the Wind"), who not-coincidentally was also managed by Albert Grossman as well. The trio went on to record memorable versions of Dylan's "The Times They Are A-Changin," "Don't Think Twice (It's Alright)" "It Ain't Me Babe," "I Shall Be Released," "Too Much Of Nothing" and "When The Ship Comes In."
In 1963, Peter, Paul and Mary appeared at the March on Washington for equal rights, sharing the stage with Martin Luther King when he gave his famous I Have A Dream speech and performing their version of "If I Had A Hammer." While they were already the darlings of the collegiate generation of folk fans who were also tuned into groups like The Kingston Trio and The Chad Mitchell Trio, that appearance also established them with the burgeoning counter-culture.
After scoring numerous hits, the trio split in 1970 to try their luck at solo careers, with Stookey composing and scoring the hit "Wedding Song (There Is Love)," which went on to become a standard played at millions of weddings each year. The group reformed in 1978 and resumed regular touring together again until Mary Travers died in September of 2009.
The original version of today's Song of the Day by Eric Berman appeared on the trio's self-titled debut album from 1962 which spent seven weeks at the top of the Billboard charts. With a story line drawn right from the Bible, the tale of Samson & Delilah has been fodder for numerous artists throughout the years (and under different names including "Samson & Delilah" and "Tear That Building Down") including the Reverend Gary Davis, Blind Willie Johnson, Ike & Tina Turner, and most notably by the Grateful Dead, who performed it as part of their regular repertoire for many years.
Edited: November 3rd, 2014
Song of the Day by Eric Berman – "Good Year for the Roses" by Elvis Costello & the Attractions
They were young, drunk, marketed as punk rockers and cut loose in Nashville, Tennessee, behaving very badly. Such was the backdrop for Elvis Costello and the Attraction's album-length foray into straight-ahead Country music back in 1981.
Costello was coming off a white-hot streak of records including 1977's My Aim Is True, followed by This Year's Model in 1978, Armed Forces in 1979, and both Trust and the 20-track Get Happy record in 1980, all stuffed to the gills with self-penned classic songs. Add to that the 20-track Taking Liberties album that gathered up the rest of the stray British singles and B-sides, and Costello fans had a ton of consistently great material to sink their teeth into.
Although the idea and reality of Costello releasing a full-blown Country collection, especially one of covers, came as a shock to his fans in 1981, it really shouldn't have. Right from the beginning, Costello had flirted with Country music, recording songs like "Alison" on his debut album in 1977, "Different Finger" for Trust, "Motel Matches" on Get Happy and "Stranger In The House," which was originally recorded for My Aim Is True and left off only to turn up on a bonus single included with first pressings of the British version of This Year's Model. He'd also recorded a duet version of "Stranger" with the song's composer, country legend George Jones, for a TV special called My Special Friends. (The footage of their duet shows a very under-the-weather Elvis Costello deep in the throes of the mumps with glands that are visibly swollen.)
When Almost Blue was unleashed onto an unsuspecting public, it was met with utter disbelief that Costello would do something that seemed so radical. And, indeed, the record was pretty unfairly shrugged off by much of his fan-base, becoming the black sheep of his catalog for many years (only later to be replaced by The Juliet Letters, but that's for another time).
For the album, Legendary producer Billy Sherrill (best known for his string-laden production work with Tammy Wynette) was brought in to helm the project, and the Attractions were augmented by pedal steel player, John McFee, who had sessioned on a whole host of records by the likes of Van Morrison, Steve Miller Band, Grateful Dead, The Doobie Brothers (where he replaced Jeff 'Skunk' Baxter in 1979) and numerous others. McFee had also previously played the pedal steel with Costello on his first U.S. hit, "Alison."
The album included credible and inspired cover versions of songs by Gram Parsons ("I'm Your Toy" and "How Much I Lied"), Hank Williams ("Why Don't You Love Me"), Merle Haggard ("Tonight The Bottle Let Me Down"), Patsy Cline ("Sweet Dreams") (written by Don Gibson), Charlie Rich ("Sittin' And Thinkin'") and George Jones who wrote today's Song of the Day by Eric Berman, which was one of the album's singles.
On tour for the album, Costello performed the single "I'm Your Toy" at The Royal Albert Hall backed by a full orchestra and released the resultant recordings on British 12" and 7" singles for the F-Beat label. I caught the "Almost Blue" tour on New Year's Eve 1981-1982 at the now-defunct Palladium in New York City. Elvis and the Attractions came out for the first set and played 90-minutes of Country hits augmented by John McFee on pedal steel, and then came back at the stroke of midnight launched into "Lipstick Vogue" and followed it with a 90 minute set of solid rock 'n' roll…a great way to begin 1982.
When the album first came out, it was accompanied by a promotional vinyl version with Elvis offering spoken introductions to each song. Almost Blue has been reissued on CD several times over the years with incarnations on Columbia, Rykodisc, Rhino and Universal Music. The Rhino two-disc version is the one to own because it includes 27 bonus tracks, easily tripling the length of the record. Costello would dip his toes into Country Music many times over the years, most recently on his Secret, Profane and Sugarcane album in 2009.
Edited: November 2nd, 2014